In a Nutshell
If you want to get a superhuman edge on getting your next website pixel perfect and ready to wow audiences, then consider Zyro—which lets users combine AI-generated text and human-generated templates to create impressive drag-and-drop designed sites.
pros
Wide range of designer-made templates
Drag and drop—no coding required
Responsive design with mobile device preview mode
cons
Not as customizable as an HTML editor
Can't add embedded HTML blocks

Zyro Visit Site
Ideal for
Zyro website builder is a great choice for users that simply want to put together a website as quickly as possible.
It's also a great choice for users that only need texts and visuals in their websites.
Great for simple website users that don't want to be distracted by complicated ecommerce functions—Zyro doesn't have these tools.
It's also a great choice for users that don't have their own images to use or have access to a stock image library. Zyro can easily import images from Unsplash—which has more than one million high quality images available for use at no extra cost.
Great for getting fast-loading websites without any additional optimizations.
Great for users who don't want to overpay for unnecessary features.
Why Go With
The platform is fully owned by Hostinger—so it's built by an experienced web host with deep knowledge of what works in web design.
Features
Ease of use
Zyro focuses on offering its users a smooth and clean interface, packing easy-to-use tools for both customizing and designing your business or personal website. No coding or design skills are needed, the builder will do all of the hard work for you. The editor itself is a very simple drag-and-drop one, allowing you to place elements pretty much at will - as long as they conform to the grid of the website bulder.
Fast websites
Website speed is an important factor influencing how your website ranks in organic search, how much your pay per click in paid search, and your website visitors' experience in general. Our research show that websites created with Zyro have excellent speed right out of the box.
AI-based content generator
One of the coolest features in Zyro is its artificial intelligence (AI) content generator. This is a terrific option for wannabe web hosts that don't also happen to be wordsmiths. Users have 3 settings to choose from to help configure exactly what kind of text the system will put out. In order to begin the generation process, users only have to input a few sample sentences. The algorithm will take care of the rest.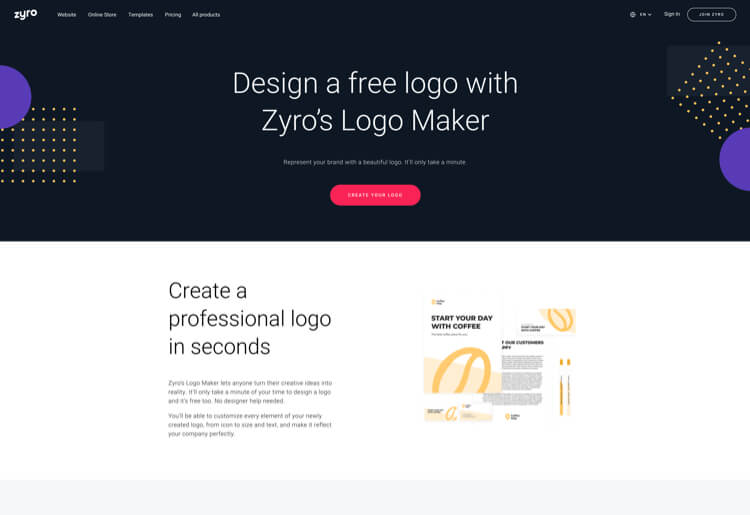 After it's done its magic, the AI generator spits out 2 different texts, which can be copied into the website by simply clicking on the copy icon.
The results we achieved were a little unusual and seemed to rely upon information pulled from Google.
Built-in SEO Tools
Search Engine Optimization (SEO) is vital for any website that needs to rank well in Google and other search engines. Zyro has built-in SEO functionality with all of its templates. Additionally, users are able to integrate with Google Analytics in order to see exactly who is visiting the website—and from where.
Free SSL Certificate
SSL certificates ensure that all data transmitted to the website travels encrypted—preventing users' data from being intercepted by cybercriminals sniffing local network packets. An SSL certificate is vital for any website that needs to display its cybersecurity credentials to users.
Buy Domains Directly From Zyro
For first-time web hosts, buying a domain name and having to deal with separate domain registrars and hosting companies is a nuisance that gets in the way of their simple objective: getting their website on the internet!
Thankfully, Zyro is owned by Hostinger, a company which offers both domain name and hosting services. Using the Zyro user interface, users can select a domain, buy it from Hostinger, and have it automatically connect to their website builder account. After that, they can choose to have their Zyro website display on their new domain name.
Easily Embed Maps
Embedding Google Maps is a great way to visually represent where your business is based to web browsers. While Zyro doesn't allow users to embed blocks of custom HTML, it does allow them to drop in map displays to their pages.
All users need to do to add a map displaying their business location to a web page is to add their address in the 'Map Settings' dialog box.
Built-in Mobile Previewer
Anybody setting up a website needs to anticipate that a large percentage of their visitors are going to be accessing the site from mobile devices. All Zyro's templates are designed to look great—whether they're being browsed from a smartphone, a laptop, or a desktop. But to verify that the sites are displaying exactly as anticipated, Zyro has a desktop and mobile view switcher which offers precise renderings showing how the website is going to display in either device.
Logo Maker
Zyro also includes a free logo maker which allows users to select text and shapes and make a free logo for their website.
Although this isn't the most feature-rich logo creator users are likely to come across (there's no option to edit font, for instance), it should be enough to create a basic logo and give a professional impression!
Customization
Although Zyro doesn't give users the option to design their websites totally from scratch, or use their own HTML and CSS, it does provide a wide variety of templates—all of which have been carefully crafted by human designers.
These are intended to be used for a wide variety of use-cases. Zyro has templates custom-built for:
Wedding websites
Accommodation operators, including bed and breakfast hosts
Creative agencies and freelancers
Job-seekers looking to develop resume websites
Payment Processing
Zyro doesn't support payments processing gateways or Ecommerce. Users that want to develop an online shop should look at different website builder tools.
SEO Tools
All of Zyro's themes are optimized for SEO. Although the editor doesn't give users the ability to manually edit meta-titles, meta-descriptions, and other SEO elements, it does use Artificial Intelligence (AI) to build sitemaps that search engine spiders can easily crawl and index.
Users that want to take things to the next level, such as by installing Google Analytics to track visitors in real time, can choose from one of the premium subscription options. Those that want to use heatmap tracking to further optimize conversion can integrate with Hotjar. Again, this is only available on premium subscriptions.
Customer Support Services
As a Hostinger product, Zyro has an entire web host's support team at its disposal. Unsurprisingly, support is available on a 24/7 basis. The Zyro team uses Intercom for customer engagement, so users are able to begin live chat interactions and continue them with email.
Additionally, there's an FAQ section for handling simple issues such as how to adjust templates and explaining technical concepts such as bandwidth.
There are a few things that could be improved upon, however. When we tried to reach out via Intercom we got back the message "Typically replies in a few hours"—which means that the team is not as responsive as many users might like. Additionally, there's no detailed knowledge base, phone number to call, or video tutorials.

Zyro Visit Site
Review in Short
For those that want a very basic text and image website, Zyro is a fantastic choice. On the downside, it doesn't allow users to do very much technically—such as embedding HTML blocks. Support could be better, although the team gets back to emails 24/7.
About
Zyro is a website builder owned by AI Powered Business Tools, which is a fully owned part of Hostinger. Hosting is an employee-owned hosting company headquartered in Kaunas, Lithuania. It has more than 500 employees in 3 worldwide offices.