In a Nutshell
Network Solutions offers both DIY and professional website building services to help you get your website up and running. The company's full slate of services, which also includes domain registration, website hosting, and Ecommerce services, work together in service of providing an intuitive, user-friendly foundation that helps clients accomplish a wide spectrum of website needs.
pros
Easy-to-use interactive design tool
Point and click editing
Free custom domain name and matching email
cons
Rudimentary design options
Limited tutorials and live support

Network Solutions Visit Site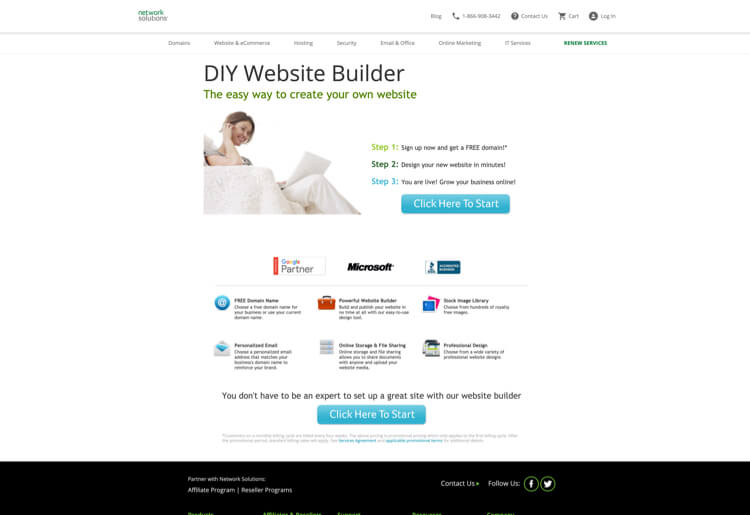 Ideal For
Novice users new to website creation
Why Go With
Network Solutions' prices are competitive and will appeal to first-timers or those looking to cut costs. As a veteran provider of web hosting, domain registration, and Ecommerce, it already has the infrastructure in place and is able to preemptively understand the needs of its customers and provide the tools necessary to meet them. The company has a good grasp on the type of clients it will draw and works within those boundaries to keep things accessible, providing just enough flexibility to create and customize a website without being overwhelming.
Feature
Network Solutions offers both DIY and professional website-building options. The DIY option lacks the features and benefits of the professional option, which includes marketing and analytics tools, but it's ease and affordability make it an appealing option for those just starting out or happy to take management and marketing into their own hands. Features of the DIY plan include:
Personalized domain name and matching email address
Professionally designed layouts
Point and click editing
Image library stocked with hundreds of free photos and graphics
The custom website option is a more extensive plan that includes design, management, and maintenance. Professional designers create an eye-catching site for desktop and mobile that includes up to 5 pages of layout and content. Features include
Relevant imagery and graphics
SEO-friendly text and copy
Professionally designed headlines
Mobile site
Access to web traffic, lead inquiries, and other key stats
Unlimited changes in the first 30 days
Customization
The interactive design tool is solid if not a bit basic. You can choose from a sizable collection of designs and templates that, while predictably not the most unique, are diverse and flexible enough to let you claim independence over your site's design. You're also given access to a stock library with hundreds of free images to choose from, which again may be limiting to more aesthetically-inclined customers but still offers enough diversity to get creative.
The customization process itself is simple. Even the least tech-savvy users should be able to figure out the point-and-click editing tools quickly, and there's enough room for more techy and designed oriented to create something sleeker and flashier.
SEO Tool
The custom service comes with advanced SEO tools. On-page optimizations such as keyword phrases, alt tags, met tags, and title tags are joined by professionally written copy that's written with search engine optimization in mind.
Customer Support Services
There are a few customer support options offered through the site. Start by using the toll-free telephone numbers listed alongside clear and visible support hours. In fact, the site lists the support hours in several different international time zones, making it easy to comprehend wherever you are.
Of course, you may also send an email to ask any question you like. Response times are fairly quick, averaging just a few hours (sometimes less during normal business hours).

Network Solutions Visit Site
Review in Short
Network Solutions' DIY website builder offers a rudimentary but accessible option for those unconcerned with flashy designs or confident in their ability to get the most out of the straightforward customization tools. The ease and affordability of the product, combined with the experience of the company, make this website builder a solid option for those looking for a foundation on which they can build a simple but professional website.
About
Founded in 1979, Network Solutions has seen the internet evolve but hardly stood by the sidelines. By 1997 it had registered a million domains; the number grew to 5 million by 2000. Today, Network Solutions has successfully expanded into website building, hosting, Ecommerce, and online marketing services.