In a Nutshell
Wix has become one of the world's most popular website builders due to the right combination of user experience, beautiful templates, and a marketplace for apps that can make any website look like it was designed and developed by a team of professionals. Wix has an intuitive interface and is a one-stop shop that gives you the tools to create a professional website suited to your needs.
pros
Intuitive interface, even for first-time website creators
More than 500 designer-made templates
Thousands of professional tools and features to power your site
cons
If you want to change templates you have to redesign the site
On free sites, there is a prominent Wix logo on the page
Your domain name is an extension of Wix

WIX Visit Site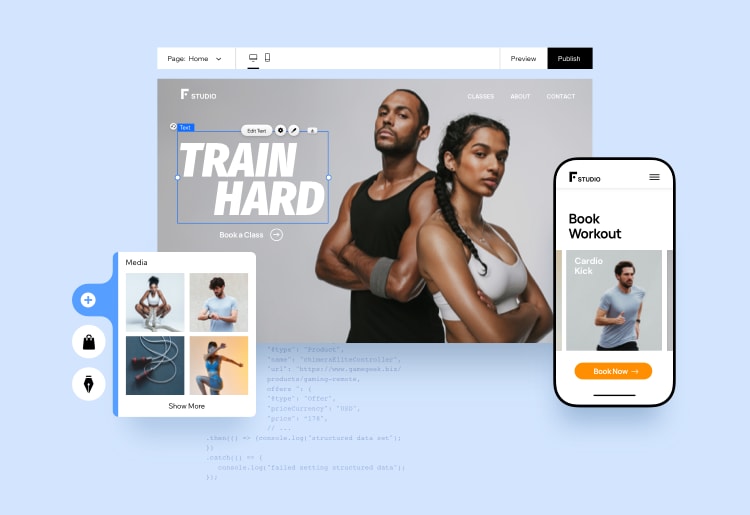 Best For
First-time and professional web creators
Anyone looking to build a professional online presence
Wix does a great job of leading you through the web-building process no matter your level of expertise. The Wix Help Center is an extensive and informative knowledge base where you can find answers to your web design questions. Wix's 500+ designer-made templates are ideal for anyone looking to showcase their brand or create an online presence. With Wix, photos and logos stand out and the design is intuitive enough that you won't be losing any valuable work time on building your website.
Ease of Use
It only takes a few minutes to get the hang of using Wix's platform, which is one of the most intuitive on the web. Pick a template that you like and start playing around with it. You don't even need to sign up for a paid account before you go live.
Wix also includes extensive help features, including a knowledge base you can access from the Editor, as well as hundreds of tutorial videos online. Another thing that simplifies Wix is the fact that all content is hosted on Wix servers, so you never have to worry about managing a web hosting account.
Template Design Options
With Wix's hundreds of richly-designed templates, you can be sure to find something that perfectly matches the vision you have for your site— whether it's an online store, a travel blog or an event page.
You can scroll through the available templates one by one and click "Info" to see an explanation of it, including which type of sites it's best suited for. You can press "View" to get a demo of how the site looks, or just press "Edit" to start working on the template and putting the pieces together the way you like. Wix also gives you the option to select a blank template, and design the entire site yourself step by step.
Wix also has a large gallery of professional photos available for free to help create a great look for your site.
One drawback of Wix though, if you can call it that, is the fact that if you decide to change your site's template, you'll need to start all over from scratch. You can't simply migrate the content to a new template. This is because of the abundance of customization options and ability to really make it your own.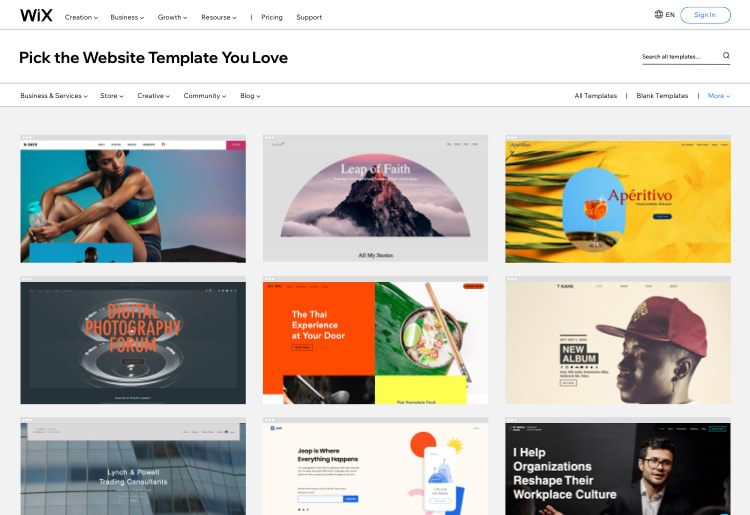 How to Use Wix's SEO Tools
With Wix's personalized SEO plan use a keyword analyzer that will let you know which written content can help increase traffic on your site. Wix will help you improve your meta tags in a way that optimizes your search engine visibility. It also helps you improve your site URLs, and will give you tips about crafting alt text and using hyperlinks as needed.
Wix's personalized SEO plan will help you understand Google Analytics data, learn how users find you and give you a step-by-step guide on how you can improve and drive traffic to your site. Wix also has the handy Site Booster app, which you can install to make your site more visible to users in your area.
Other tools include XML sitemaps, HTML5 optimized code, CDN providers and more, all of which is there to help your SEO.
Unique Features
Custom Interactions
Create an interactive site and add triggering events when visitors perform specific actions, like hovering, scrolling or clicking. Wire events to page elements—and with just a line of code—add animation effects, change SVG images, show or hide text and collapse or expand entire sections of your site.
Parallax Scrolling
In parallax scrolling, the site background and foreground are separate, and as a reader scrolls down, the two sections move at different speeds creating a sense of depth on your site.
Slideshows
This feature allows you to showcase your images and other content on a variety of slideshow galleries that can increase engagement and the time users are on your site.
Wix Gallery
The Wix Pro Gallery allows you to display your images, videos and text all in one stunning multimedia gallery. Choose from multiple layouts and customize your gallery's design. You can also make every image shareable on social media.
Wix's Artificial Design Intelligence (ADI)
This innovative AI, uses an advanced algorithm to build your website. You just answer a few questions about what your needs are, and in seconds you have a site built for you—complete with images and text.
Wix's App Market
The Wix App Market is made up of hundreds of professional solutions to power your Wix website. These apps made by Wix and third-party providers can handle any need that may arise from SEO and eCommerce to blogs, bookings, events and restaurant orders.
Video Backgrounds
You can easily upload your own video and add your own music to play automatically when any page loads.
What About eCommerce?
Wix eCommerce helps you sell more on multiple sales channels and promote your brand with state-of-the-art storefronts and an industry-leading suite of professional eCommerce apps. Plus, use one integrated dashboard for everything—store orders to payment, shipping, fulfillment, marketing and more.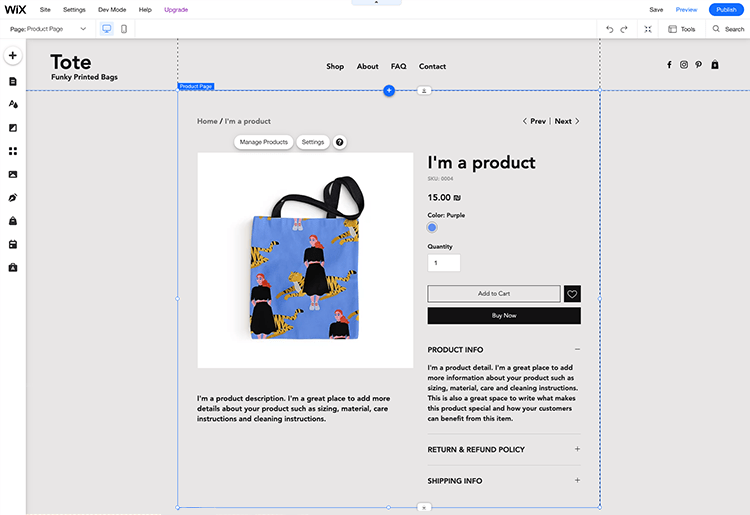 Blogging Tools
Starting a Wix blog is as easy as you'd expect. You can create categories for your posts and organize them accordingly, then schedule them for later publication. Wix also lets users comment on your blogs, create member profiles and includes special sharing options.
Wix on Mobile
When you create a website on Wix, a mobile version is automatically created for you. You can check the preview at any time to see how your site will look on a mobile device, and then publish when ready. You can also download the Wix Owner app for managing your website and business on the go.
So, How Much Does it Cost?
Pricing is all off, here are the updates price lists.
What Do You Get for Free?
You can start a Wix website today free of charge and be up and running in minutes. The free plan is a great way to try out Wix with no strings attached, but you won't get the full experience of running a premium Wix site.
Is it Safe?
Your site will be secured by HTTPS/TLS encryption and is hosted on Wix's servers. Plus, Wix lets you enable phishing and malware protection and uses "multi-layered security architecture," which is geared to protect against zero-day issues. Wix also maintains industry best practices for handling personal information (PII) and managing website security risks.
Customer Support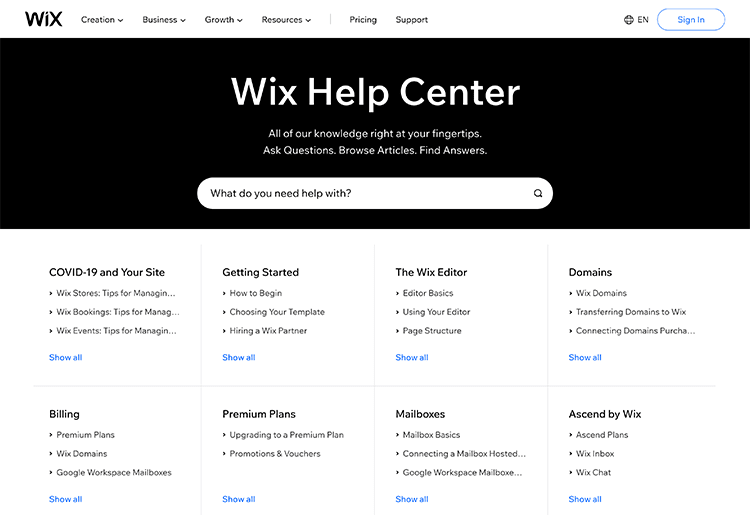 You can easily find hundreds of Wix tutorial videos made by the company, which can walk you through all types of issues. If that's not enough, reach out by filling out an online ticket with your questions, or contact a Wix Customer Care Expert day or night.

WIX Visit Site
Bottom Line
Wix has an interface and user experience that has made it one of the world's most popular website builders.
If you're looking to launch a professional website for your business, a platform for promoting and selling or just a beautiful personal website, then Wix is ideal for you.
Bio: Founded in Tel Aviv in 2006, Wix has changed how millions of users from around the world build free websites. The platform's powerful technology makes it easy for both beginners and advanced users to get themselves online.
Main line of business: Website builders
CEO/founder: Avaishai Abrahami, Nadav Abrahami and Giora Kaplan
Address: Namal Street 40, Tel Aviv-Yafo
Phone: +1 415-639-9034
Learn More About Wix
Using Wix to Make Free Websites for Teachers
Wix SEO Wiz: What It Does & is It Worth It?