In a Nutshell
With so many affordable tools that help business owners build websites, how are first-timers supposed to know which one will make it easiest for them to get the job done? Register.com offers a straightforward, easy-to-use interface that might be just the solution you seek.
pros
Intuitive & easy to use
A wide range of flexible plans
24/7 support
cons
Lacking some advanced features
No mobile responsive themes
Pricing could be more straightforward

Register Visit Site
Highlights
Domain name, email account, storage, hosting, and analytics are free

Website templates come prepopulated with great content you can use

Though not the most full-featured builder around, it's easy enough for newbies to use
A subsidiary of Web.com and a sister company to Network Solutions, Register.com actually offers a more streamlined interface and set of offerings than those other sites. Even though the Register.com website builder is the same one that Network Solutions uses, the overall experience just seemed much smoother to me. That's not to say that the platform is perfect, though. Like other companies under the Web.com umbrella, pricing practices are a little questionable, and sticker shock can come into play if you don't pay attention to the fine print.
Most Register.com reviews rank the builder as slightly above average, which I generally agree with. It's a great first-time builder for business owners, and the plans are very reasonably priced, but based on your needs, there are likely better options out there.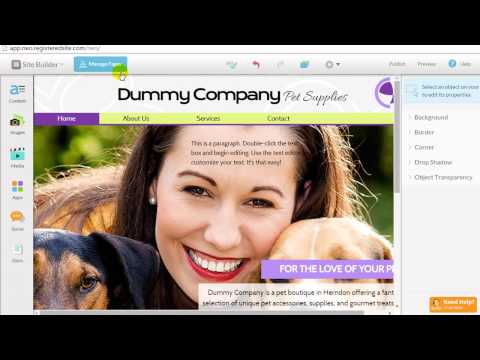 Ideal For
Small business owners are ideal candidates to use the services offered by Register.com Inc. The tools can help entrepreneurs at any stage of success create a winning website to connect with their customers. And the plans are affordable enough that they won't break any business owner's budget. There are ecommerce options for company's interested in selling online, and gorgeous templates for use by traditional brick-and-mortar stores.
Templates
One area where this builder really stands out is the selection of templates and themes offered. Register.com templates are unique in that many come prepopulated with content you can use on your own site. The prewritten copy on these templates was crafted by professional writers, and includes information that's specific to the industry in which you operate. This can be a huge help for business owners who struggle with written communication, or who just want to save time by not writing paragraph after paragraph themselves.
Ease of Use
Although I found the Register.com website builder to be virtually identical to the one offered by Web.com and Network Solutions, there seemed to be fewer obstacles in the account management interface, making for an overall improved experience. The builder itself was a breeze to use, and I could easily add images, maps, videos, and more with just a few clicks. And the drag-and-drop editor allowed me to rearrange the elements on a page until it looked exactly like I wanted it to.
Though it's not quite as feature-rich as others tools I've tried, there are a surprising number of options available with this builder. And if you already have a website hosted by a different company, you can use Register.com to transfer domain names and maintain your site using this tool.
Pricing
Although I think Register.com pricing plans are relatively reasonable, there are certainly better builders available that come with much lower price tags.
Do-it-Myself eCommerce Website
Do-it-for-Me eCommerce Website
The good news is that it's not hard to find Register.com coupon codes online, which can drastically reduce the cost of any plans you might be considering.
Mobile Responsiveness
Even though the Register.com website builder isn't the most full-featured one on the market, it does include a ton of great functionality. One modern bit of technology that it doesn't offer, however, is mobile-responsive design. Mobile responsiveness refers to a website's ability to make the most out of screen real estate, regardless of what size device it's viewed upon. Register.com website templates don't come with this feature, but the builder does offer a comparable option.
Register.com users can access a tool called goMobi, which is used to create mobile websites that display well on smaller screens. I didn't have any problems using the software, but it is kind of a pain in the butt to maintain two separate versions of my website, when true mobile-responsive builders make it possible to have one site that looks great everywhere it's viewed.
Ecommerce
If you're interested in selling goods or services online, Register.com has a plan that might be perfect for you. The Register.com eCommerce package includes access to an alternate website builder with a specialized set of ecommerce tools and templates. These tools make it easy for you to add and manage your products to an online catalog, and to set up a shopping cart system for your customers to use. And, best of all, the eCommerce package includes a mobile version of your store, so that your visitors can make purchases on your site right from their smartphones.
Customer Support
One thing I admire about this platform is the range of support options offered by the company. Register.com customer service is available for domains, hosting, email, and the site-builder, of course. Depending on what you need help with (hosting, billing, sales, or tech support), there are different Register.com phone numbers (listed here) to dial.
All Register.com support specialists have completed at least 120 hours of training, and are available to answer your calls from 9 a.m. EST to midnight on weekdays, and 9 a.m. EST to 10 p.m. on weekends. In addition, a full 20% of these specialists are former or current small-business owners themselves, so they'll know exactly where you're coming from and what you're looking for.
SEO Tools
For website owners interested in getting found online more frequently, Register.com offers customers access to the company's SEO experts. These friendly folks are tasked with helping business websites stand out in search engines. The pros will list your business name and Web address in hundreds of directories and listings across the Internet, and will help you have a strong presence on Google Maps and social media networks as well. Access to these experts isn't free, and rates vary depending upon what you're looking for. Register.com doesn't publicize a price for this service, but finding out the cost is only a phone call away.
Hosting
If there's one thing that Register.com does well, it's hosting. This is the company's core strength and constitutes a large percentage of the business's revenue. Register.com hosting comes in one of three primary plans: Essential, Premium, and Professional. These plans vary in storage, bandwidth, and email options, and range in price from $14.95 to $44.95 per month. The cost of Register.com domain hosting is reduced for the first month, though, and coupon codes are available if you know where to look.
If you already have a business website that you're hosting with another company, it's easy to transfer your domain to this reputable company. Just initiate the transfer process, and you'll soon receive a Register.com authorization code that you can use to confirm the transfer. When that's complete, you'll just need to access the DNS services and confirm that the settings point your domain name to nameservers.
Email Options
When you decide to use this site builder for your business website or online store, you also get access to Register.com mail service. The number of email addresses you're able to use varies based on the hosting plan you choose, but all accounts have the same options otherwise. You can opt to use Microsoft Outlook or Apple Mail as your email client, and set that up in the email settings section of your account dashboard. You'll also need to enter the IMAP settings in the account setup options in whatever email client you decide to use.
If you don't want to use an outside email client, you can use the webmail service to keep tabs on your inbox. Accessing webmail is easy: Just head over to the Register.com email login page, and enter your Register.com login info. By using this service, you can read, write, or reply to emails at any time, from wherever you may be.
Reviews
Though not all Register.com review are glowing, most users give the company credit where it's due. The website builder is solid, but not cutting edge, and though the support options are sufficient for most, many people still call the company out for it's less than clear-cut pricing plans. Since I was already familiar with the business practices of Web.com—Register.com's parent company—it didn't surprise me that the rates weren't as obvious as they are on some other builders. Business owners who haven't previously done business with Web.com, though, might want to look things over carefully when they reach the checkout screen.

Register Visit Site
Free Website
Unlike many other website builders available today, there are no free website plans with Register.com, and there's no way to test out the builder without first paying for it. The good news, though, is that individuals or business owners who purchase a domain name from Register.com get access to the website builder to see if it's the right tool for them.
Conclusion
Although there may be better website builders for small-business owners to use, Register.com's is far from the worst one. This builder does have all the basics covered, but it can't compete with some of the
best website builders that can help you build a site in under an hour, and without having to enter any billing information. My advice? Explore your other options first, then revisit Register.com if you still feel like it's the best tool for you.